On August 10, 2014, we gathered to honor those who have been members of the Frank Motors family for over 20 years.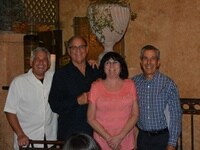 Every year, we take the time to give thanks to those employees who have dedicated their time and talents to Frank Motors for twenty years or more. This year, we celebrated with a dinner at
Baci Ristorante
. There was great food, drinks and plenty of laughter.
Jim Fornaca, President of Frank Motors, Ron Fornaca, General Manager of
Frank Subaru
and
Frank Hyundai
, and Gary Fenelli, General Manager of
Frank Toyota
honored each attendee with a gift. Frank Fornaca, who founded the company with his brother Felice, shared his gratitude, knowing that this company would not be where it is today without all of the people in that room.
Thank you to all of the Frank Motors employees who have dedicated twenty or more years to this company.
Rick Griffin (1977), Cori Feightner (1978), Maria Montez (1978), Alberto Hernandez (1980), Guillermo Cota (1982), Bill Bartelt (1982), Manuel Mendez (1983), Manuel Cota (1983), Rodney Huth (1985), Janice Ulrich (1985), Jose Flores (1985), Cipriano Zavala (1986), Carlos Corona (1986), Jose Vega (1987), Jan Cannizzaro (1987), Michael Rasmussen (1988), Danny Castro (1988), Rafael Vega (1988), Hector Vargas (1988), Jose Hernandez (1988), Gustavo Cisneros (1990), Richard Mills (1990), Oscar Torrico (1990), Sergio Carrillo (1991), Lou Lucia (1991), Dave Van Roy (1992), Mike Bailes (1992), Francisco Velazquez (1994), Joselito Muro (1994), Gary Fenelli (1974), Jim Fornaca (1975), and Ron Fornaca (1988).