"Stand Down," a term commonly used during wartime, signifies a time when combat units are removed from the battlefield to a place of safety for rest and recovery. The
Veterans Village of San Diego
takes these two words and gives them even greater meaning by offering a three-day "stand down" for some of our nation's most remarkable heroes.
Operation Stand Down
is "a community-based intervention program designed to help the nation's estimated 200,000 homeless veterans 'combat' life on the streets."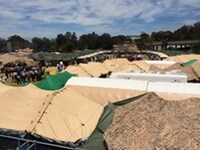 Throughout these three days, participants were assigned to tents where they stayed the night, were given delicious food, received new clothes and had access to showers. Each tent consisted of one or two tent leaders who assisted the participants in accessing the many services available such as medical care, dental care, haircuts, counseling, chaplain services, massage therapy and acupuncture (just to name a few).
On Friday, July 18, 2014, I joined Ron Fornaca, General Manager of
Frank Subaru
and
Frank Hyundai
, and thousands of volunteers at the San Diego High School baseball field to assist in Operation Stand Down 2014.
While there, we helped VVSD's Volunteer Leader gather and organize all of the volunteers that joined us on the field. We checked them in and prepared them to help the participants through the various services offered.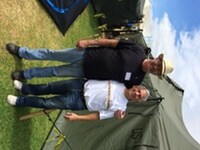 At
Frank Motors
, we volunteer because we strongly believe in what VVSD stands for; but we also volunteer because Stand Down changed the life of one man we are very proud to call our co-worker and friend. His name is Coday Campbell and he works in the
Frank Toyota
Parts Department
. If you haven't heard
Coday's story
before, then listen up, because it sure is an inspiring one.
Coday began working at Frank Toyota as a delivery driver in the Parts Department on August 1, 2008. However, prior to that, Coday was a Vietnam Veteran, homeless for 15 years and struggling with alcoholism.
"I first stepped foot on the ground at Stand Down on July 13, 2002...but I was arrogant then. I thought I had a handle on this thing called alcoholism. But I learned a valuable lesson; I suffered from a disease and I was only taking care of one minor symptom of the disease. I wasn't really 'sober,' I was just 'dry,' so I had to keep going back...It took me three times, but Stand Down gave me my life back...
Stand Down is where I learned to walk again."
In 2008, Coday once again returned to the field of Stand Down; however this time, it was as a volunteer. He has been back every year since.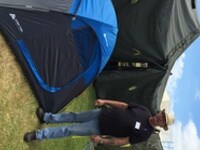 Each year, Coday volunteers as a tent leader; he spends all weekend mentoring and working with the thirty men that come through his tent. Coday devotes his new life to helping these men find theirs. Coday's dedication goes farther than any other tent leader out there. He is one of the only tent leaders who stays with his men overnight. However, our selfless Coday would never think of taking up a cot that was meant for one of his men. So, instead, he uses money he saved up from recycling water bottles to buy a beautiful new tent that he pitches in the back of the field.
Coday can proudly say that he no longer needs the tent - so at the conclusion of the weekend, he gives it to a man, woman or family who does.
Coday's story is truly remarkable, yet he describes his work with such humility, "If I borrowed $10 from you, you would expect me to pay you back right? Well this is no different. My Stand Down gave me my life back, so I am paying them back."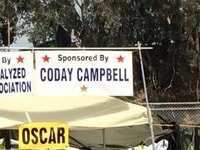 Frank Motors is so proud of Coday that we wanted to give more than just our time volunteering at Stand Down. Frank Motors donated the "Bravo Tent," which gave thirty men a place to rest and recover; the Frank Toyota Parts Drivers donated enough to help Coday purchase water bottles, sodas and snacks for the men in his tent; and to top it all off, Mary Nitschke, Frank Motors Human Resource Director, donated a tent in Coday's name.
"At Frank Motors, we are a family," Ron Fornaca proudly remarks. "It does not matter if you work at Frank Subaru, Frank Toyota or Frank Hyundai we are always going to support one another and our community. I feel so proud to be a part of a company that comes together to support each other and all members of our San Diego community. Thank you, Coday for all of your hard work and dedication to our veterans, thank you for your service to our country, and thank you for inspiring us to take up this work and follow in your footsteps. We hope to make you proud."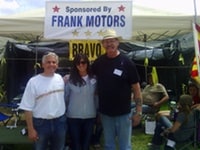 Frank Motors is so honored to have the opportunity to be a part of a program that gives our forgotten heroes the opportunity to find exactly what Coday did, an incredible life off the street. Those who volunteer, no matter how minor the job may seem, are helping to give these vets this same gift.
"Think about this," Coday explained, "You could have saved a life when you were out there and not even know it. That is a very real possibility. Just think about all those people that were there, depressed with low self-esteem...
...Here is a scenario for you: A young man out there, or maybe not so young, is down to his last straw and he's already come to the conclusion, 'I leave here, I'm going to end it.' But the simple fact that you looked at him, you smiled at him, and he sees it in your eyes. That was enough for him to say, 'Wait a minute, she noticed me, maybe I'm not invisible, maybe I am something.' You may have saved a man's life."
For more information on Stand Down or how you can support VVSD, please visit: http://www.vvsd.net/