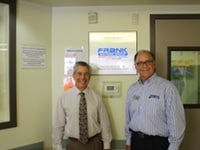 This week, Frank Motors President, Jim Fornaca, and General Manager of
Frank Toyota
, Gary Fenelli, visited the Pediatric Wing of the
Family Health Centers of San Diego (FHCSD)
in Logan Heights to see all the good that was being accomplished due to the money Frank Motors raised in our
3rdAnnual Drive for Literacy Event
last October.
The Drive for Literacy is an annual event Frank Motors hosts to promote literacy and education among children in San Diego--one of our main company initiatives. This year the money raised went to support the Family Health Centers of San Diego and their Reach Out and Read program and Pediatric Development Services. This program, started by Dr. Marsha Spitzer, promotes literacy in the homes of young patients by giving them books to bring home from the clinic.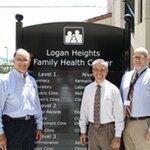 In addition to the $2500 donated by Frank Toyota and the $2500 matched by the
Toyota Motors Sales
through the Toyota Match Program, the Drive for Literacy event raised $12,005--all of which went to support FHCSD and their Reach Out and Read and Pediatric Development Services.
We are so proud to support such a wonderful organization that does so much good for the children in our community. We cannot wait to see all that you will accomplish in the next coming years.