Our roots are embedded to the shores of San Diego. Since 1912, the Fornacas have been doing business in San Diego and plan to keep on keepin' on right here! We recently found an article from 1987 about the Fornaca Family Bakery being nationally recognized. It's a story of immigration, helping the community, conducting a business, perseverance and family values.
House of Representatives
In Honor of the 75th Anniversary of the Fornaca Family Bakery
The SPEAKER pro tempore. Under a previous order of the House, the gentleman from California [Mr. Hunter] is recognized for 5 minutes.
Mr. HUNTER. Mr. Speaker, I rise today to bring to my colleagues attention the story of a hard-working and successful American family. The Fornaca Family Bakery, the largest family owned and operated bakery in San Diego, is celebrating its 75th anniversary this month. The bakery today process about 950,000 pounds of bakery product per week, and presently employs about 320 people.
The Fornaca Family Bakery was founded in 1912 by Mario Fornaca, an Italian immigrant who came through Ellis Island and made his way to Los Angeles. In Los Angeles, Mario made friends with another Italian immigrant, a banker, who wanted to loan Mario money to purchase some land to the west of downtown Los Angeles. Mario declined his offer because he had already planned on moving to San Diego to buy a bakery. Mario did just that.
As was the case with the majority of Americans, the 1930's were very difficult for the Fornacas. During the depression the bakery came very close to shutting down. Only with a combination of luck, business skill, and most importantly, family togetherness, was it able to survive.
During World War 2, many Fornaca employees went overseas to fight for our country, resulting in a labor shortage. In order to make up for the loss in employees, Mr. Fornaca sponsored several Mexican employees for U.S. Citizenship. Some of their children and grandchildren still work at the bakery today.
Among the ideas and values that Mario Fornaca brought with him from his native Italy, was a strong sense of family. It is this sense of family that has guided the Fornaca Family Bakery so successful.
Mr. Speaker, in honor of its 75th year, the Fornaca bakery has introduced a "Born in America" bread line. The red, white, and blue label boasts of rye from South Dakota, oats from Minnesota, butter from California, and ingredients from eight other States. I know that my colleagues join me in saying "congratulations" to the Fornaca family.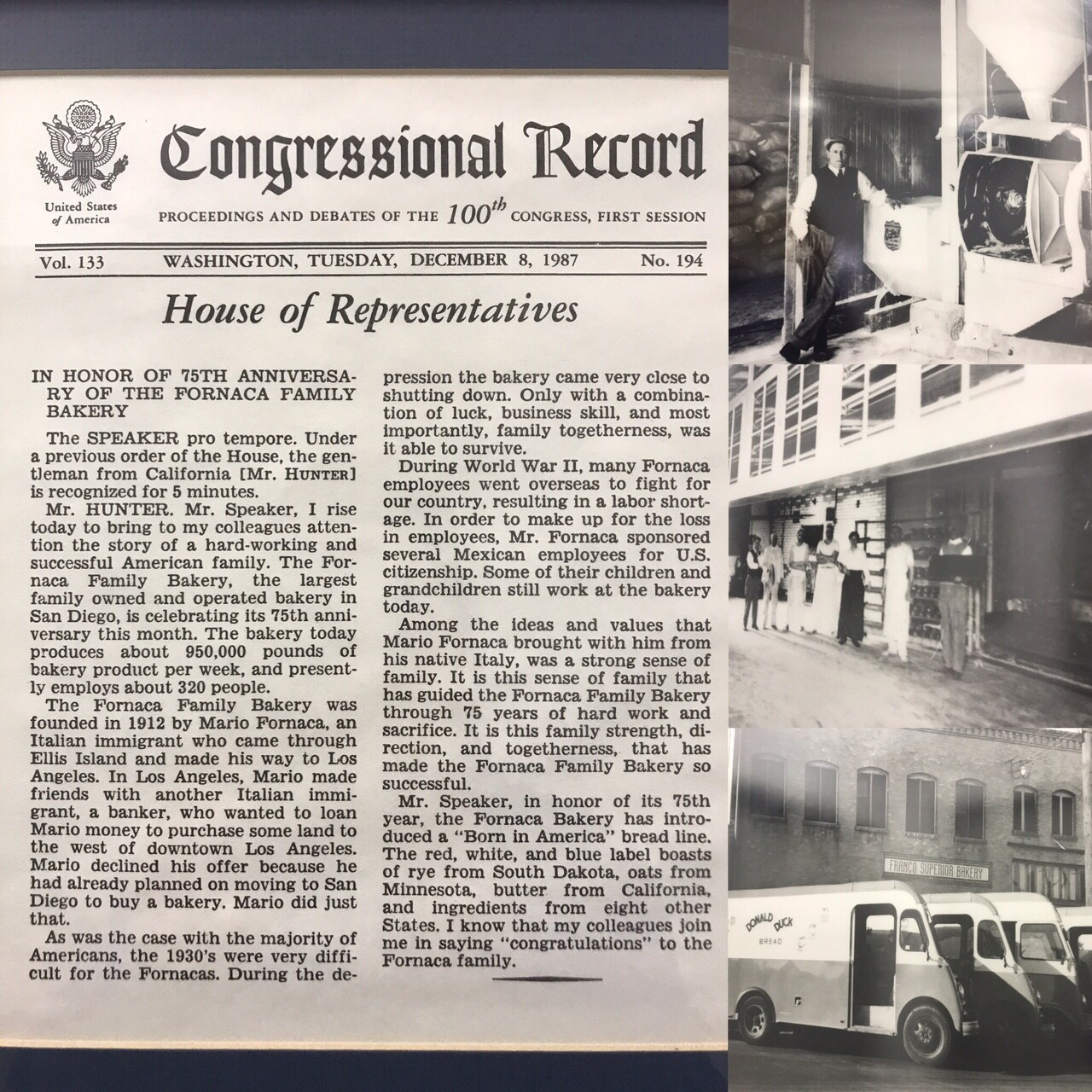 Normal
0
false
false
false
EN-US
X-NONE
X-NONE